The rolling rubber prices finally made tire companies no longer sit still. In a survey interview, the reporter was informed that on the eve of the new year, the seven tire giants of the Chinese tire industry have reported to the State Council through the China Rubber Industry Association to require regulation of natural rubber prices. Shandong Rubber Industry Association recently prepared to recruit some tires in the province. Represent the company to discuss countermeasures. In the face of unprecedented domestic and international market conditions, Shandong Tire Enterprises is calling for the government to intervene while it is "self-helping" by developing high value-added products and actively expanding production of synthetic rubber. The more start-up, the more loss the "natural rubber prices now exceed the $7,000 mark, and some companies have stopped production..." In the impression of Xu Guangcheng, the quality director of Cooper Chengshan (Shandong) Tire Co., Ltd., the company had purchased the company in September last year. After a batch of natural rubber, the price was about 3,000 US dollars per ton. In November last year, the price was arrogant to more than 4,400 US dollars. In less than two months, the increase was close to 50%. Now, the price per ton has already exceeded 6000 US dollars, almost equal to the 7,000 US dollar mark.
"It is more and more losses starting, the natural rubber prices are too high for companies to stand, the price trend has been completely out of the fundamentals." Zheng Yongxiang, vice chairman of Shandong Rubber Industry Association, said with worries. Shandong consumes nearly half of the country's rubber consumption, and the vast majority rely on imports. Due to the fierce competition in the tire industry, Shandong tire companies are in a difficult position. Exquisite, triangular and other large companies have to use the Spring Festival holiday to extend the company's production stop time, in order to reduce the amount of natural rubber, reduce raw material costs; many SMEs are even more difficult to sustain, limit production, stop production abound. According to statistics from China Rubber Industry Association, from January to November last year, the profits of the domestic tire industry fell by 22% year-on-year, and the loss reached 26%.
Zheng Yongxiang analyzed that, on the one hand, domestic auto output has drastically increased the demand for rubber by a surge; on the other hand, affected by the abnormal weather, the rubber production in Yunnan and Southeast Asia in China has declined. This has led to a direct rise in the price of rubber and will be quite high. Run high for long periods of time. He believes that with the continuous soaring price of rubber, the large-scale loss of the domestic rubber processing industry this year is a foregone conclusion. Self-rescue shows that it can face the severe situation, tire manufacturers generally hope that the country can improve the natural rubber national reserve adjustment mechanism, and cancel the natural rubber import tariffs. However, people in the industry believe that this is only a short-term self-help measure in an emergency. The effect is very limited. To get rid of the current predicament, it is necessary to increase the technological content and added value of the product.
It is understood that the Linglong Group's recently launched low-profile anti-slip, low-noise ultra-high-performance passenger car radial tire project has filled the domestic gap and reached the international advanced level, with an annual output of 2 million pieces. It has been tested by third-party international authoritative organizations such as the German Rhine and American STL, and all products have passed the EU ECE quality certification. The tire's resistance to slippery, durable, noise and other major performance are better than the comparison of world-class tires, and cost-effective, in the international market has a strong competitive edge. According to the company's general manager Wang Feng, its products are currently exported to more than 40 countries and regions including Europe, the United States, Japan, and Australia. They are used in Mercedes-Benz, BMW and other luxury cars, breaking the monopoly of foreign tire giants in this high-end technology field. .
Delta Group recently successfully developed the largest giant radial tire in China, with a single tire weight of 4.5 tons, an outer diameter of 3.6 meters, a width of 1.2 meters, and a single tire maximum load of 103 tons. The advent of the triangular giant radial tire has broken the long-term technical blockade and market monopoly of foreign companies. It has successfully achieved many worlds such as Caterpillar, Terex, Volvo, Case New Holland, and Liebherr. Well-known construction machinery manufacturers provide support.
In addition, many companies in Shandong Province have also turned their attention to synthetic rubber, an alternative to natural rubber. According to Zhang Hongmin, chairman of Shandong Rubber Industry Association, there are currently two companies in Shandong successfully producing synthetic rubber: Maoming Luhua Chemical Co., Ltd., a subsidiary of Shandong Luhua Hanjin Chemical Co., Ltd., with an annual output of 15,000 tons of synthetic rubber. Project; Qingdao Yikesi New Material Co., Ltd. annual output of 30,000 tons of synthetic rubber project. In addition, Shandong Luhua Qinjin Chemical Co., Ltd. has an annual output of 50,000 tons of synthetic rubber project has started construction in Zibo Chemical Industry Park, and is expected to put into production in early 2012; and the first new materials invested by the National Tire Technology and Control Engineering Technology Research Center. The synthetic rubber project of the company is expected to be put into operation in the second half of this year, with a planned production capacity of 100,000 tons and an annual output of 30,000 tons.
This retro table clock with big number, it is easy to read time. With slim body, this clock can accompany with you when you studied. Popular for gift, this retro table clock will be packed with color box.Retro Table Clock is our classical model, we`ve produce this clock over 20years. You deserve this Table Flip Clock.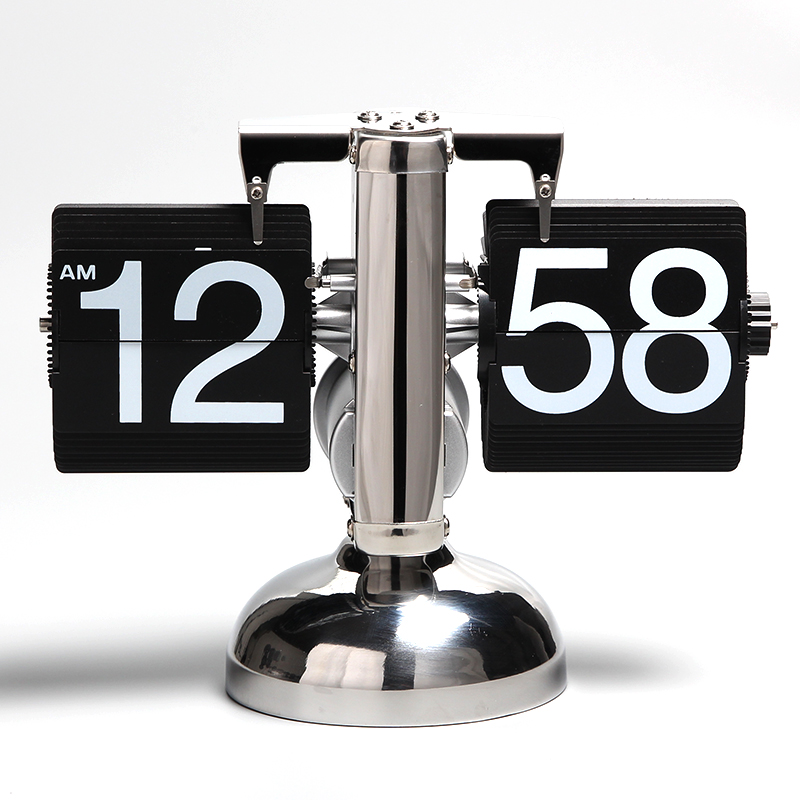 Retro Table Clock,Vintage Table Clock,Wooden Table Clock,Small Decorative Table Clocks
Guangzhou Huan Yu Clocking Technologies Co., Ltd. , https://www.mk-times.com