IoT has been used in smart homes and cars is not uncommon, it seems little for the aviation industry, through Wind River's senior director of aviation and defense business, Chip Downing learned that Wind River VxWorks 653 Helionix to get on the Internet of Things Express, Improved helicopter management. Airbus Helicopters will use the Wind River VxWorks 653 platform to implement Helionix, its latest integrated modular avionics (IMA) system.
1, VxWorks 653 platform remodeling aviation industry
It is understood that the VxWorks 653 platform is Wind River's a commercial off-the-shelf (COTS) platform for security-critical IMA applications. The upgraded version of the VxWorks 653 is used in Helionix systems for multifunction displays, flight management, control systems and autopilot to support applications successfully passing DO-178C certification at multiple levels of the RTCA (Aeronautic Radio Commission), as well as future machines Future Airborne Capability Environment (FACE) 2.1 Safety base Profile for Technical Standards. In addition, it provides resource management and partitioning capabilities so that stand-alone applications with different safety-critical levels can run simultaneously on a single target platform. VxWorks 653 platform or will reshape the aviation industry.
"The VxWorks 653 platform provides resource management and partitioning capabilities and supports a wide range of open standards that allow customers to integrate applications at different levels of security from different software vendors on shared computing platforms while developing their critical There are a variety of APIs to choose from for safe on-board applications. "Chip Downing said," This stable security partitioning and virtualization / isolation feature has been demonstrated in mission-critical avionics systems , Making it the solution of choice in the same demanding industrial and transportation sectors. "
Wind River is a real-time operating environment developed for the sophisticated, high-security ARINC 653 IMA system and has been used by over 200 customers over 350 projects in more than 75 aircraft and is powered by 24 partners Support, used as a key technology in a variety of commercial, aviation, safety and mission-critical, manned or unmanned aircraft projects around the world. Among the most representative projects are Airbus and Boeing commercial and military aircraft, such as the Airbus A400M and the Boeing 787.
2, Helionix keep pace with the times to get on the Internet of Things Express
Helionix, the Helionix system consists of three large-size displays: one that provides all the parameters necessary for flight and navigation, one that shows basic or optional mission systems, and one that provides the same information to the copilot. It is a fully integrated system that represents the latest technological level of European helicopter manufacturers, providing driverless assistance and an intuitive human-machine interface.
According to reports, unlike the original Meghas avionics system, the new Helionix system will not display all the information displayed by all traditional helicopter flight instruments on its flight and navigation display (FND) at the same time, but prioritize the information After giving to the pilot.
"For example, an environmental awareness system located in the center of the dashboard allows pilots to quickly understand the helicopter's geographical (obstacles, topography) and antenna (presence of other aircraft) information by digitally displaying it. To prevent dangerous situations, the HTAWS Warning system) will warn crews in advance of any land-based obstacles on the current flight path, "Chip Downing added.
The new avionics system, including the H175 and H145 certified civil rotorcraft, has significantly improved helicopter management while providing unprecedented performance and safety through an integrated, modular approach.
It is understood that Wind River as early as 10 years ago to maintain cooperation with Airbus helicopters, when Airbus chose VxWorks helicopters as a design platform for its predecessor.
Today, Airbus Helicopters once again chose VxWorks 653 to develop its first integrated modular avionics program, significantly improving its helicopter management. The VxWorks 653 is used in multi-function displays, flight management, control systems and autopilot modules. But also provides resource management and partitioning capabilities so that stand-alone applications with different safety-critical levels can run simultaneously on a single target platform.
The responsible person for the Helionix project for Airbus Helicopters said: "Wind River's safety-critical technologies have been validated in other IMA systems to provide sufficient reliability, flexibility and configurability to meet stringent safety requirements and, at the same time, From system design to verification, Wind River has provided us with comprehensive technical support to make the entire R & D process go smoothly. "
Plasma Cutting Machine
What are CNC Plasma Cutting Machines?
Plasma cutting is a process that cuts through electrically conductive materials by means of an accelerated jet of hot plasma. Typical materials cut with a plasma torch include steel, Stainless steel, aluminum, brass and copper, although other conductive metals may be cut as well. Plasma cutting is often used in fabrication shops, automotive repair and restoration, industrial construction, and salvage and scrapping operations. Due to the high speed and precision cuts combined with low cost, plasma cutting sees widespread use from large-scale industrial CNC applications down to small hobbyist shops. CNC cutting machines, such as CNC plasma cutting machines, utilize their intricate software systems and components to efficiently, accurately and smoothly handle plasma cutting processes.
CNC Plasma Cutting vs. Other Cutting Methods:
Of course, plasma cutting is only one variety of system which CNC machines may be designed to work with. Another common variety is the CNC waterjet cutter. Waterjets can use either a mixture of pressurized water and abrasive, or purely water. One benefit to a waterjet cutter is that there`s no HAZ, or heat-affected zone, which can alter a material.
Another cutting method utilizing CNC machines is oxy-fuel, using fuel gases and oxygen, which dates back about 100 years. Here, a stream of oxygen is blasted onto a metal heated to kindling temperature, turning it into a flowing metal oxide.
With CNC plasma cutting machines, a plasma torch blows an inert gas at high speeds out of a nozzle, through an electrical arc, which turns some of that gas to plasma.
While all of these options remain widely used today, CNC plasma cutting machines are typically seen as a solution for manufacturers who are concerned with quickly and efficiently cutting conductive materials up to 3″ thick. The CNC plasma cutting process has superior cutting speeds, piercing speeds, and generates very precise cut qualities. More speed and higher quality also produces superior efficiency and productivity.
CNC plasma cutting machine applications:

It is widely used in the process of cutting metal plates in the machinery manufacturing industry, engineering industry and metal fabrication and can cut mild steel, stainless steel, aluminium, copper and many kinds of non-ferrous metal.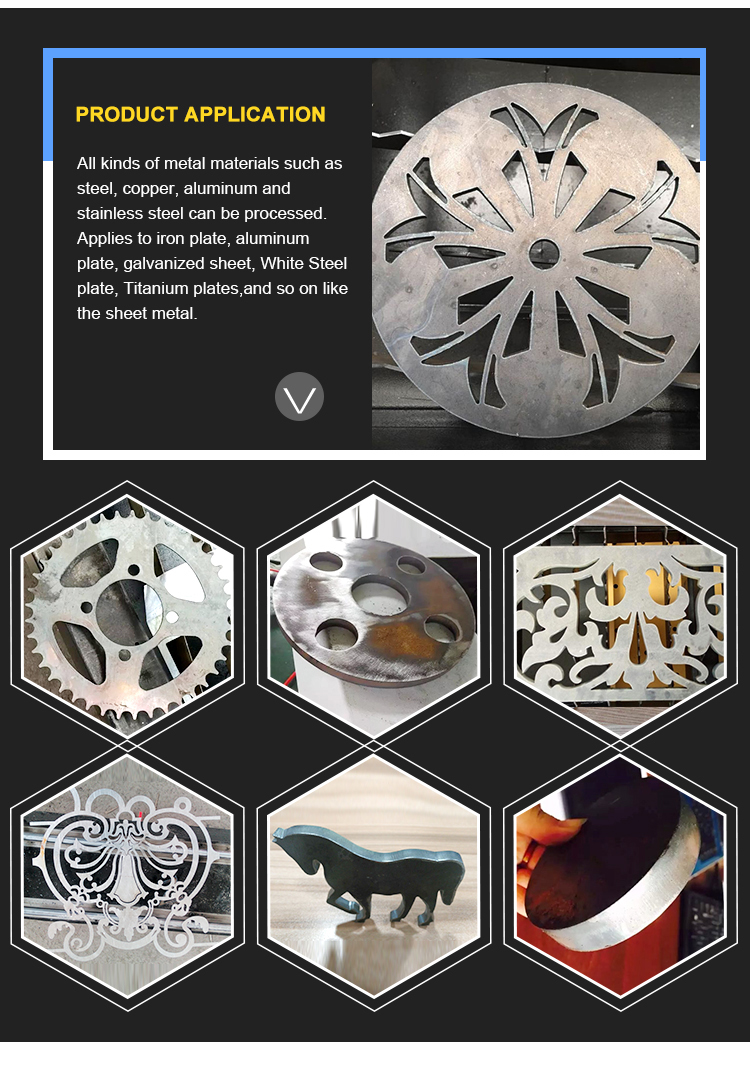 CNC plasma cutting machine features:
1.1300*2500mm standard working area(can tailore made for you)
2.START control system
3.Huayuan 120A plasma generator(Optional: Hypertherm power supply)
4.Cutting Material Collection Box with wheels,for easy take out products
5.High Quality cut performance,Fast cutting speed,high precision and low cost.
6.With firm and reasonable structure,the machine is easy to operate and durable for use.
7.The cutting incision is thin and tidily and can avoid the second processing.
8.High configurated CNC system,auto arc-striking and stable performance.
9.Working with computer and support G code and files of Uncannest software (specilized in cutting metal material) (optional Fastcam software)
10.It can cut metal plate of advertising 3D lighting letter and flute profile letter with high cutting precision.(USA power is optional)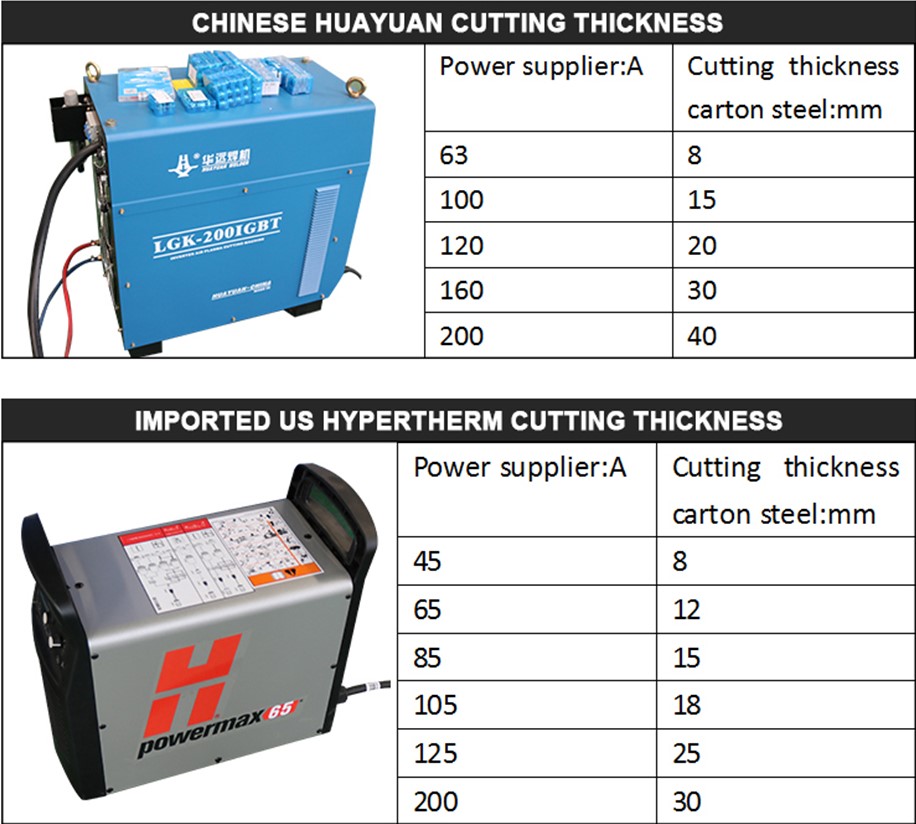 Effective Cutting Width (X axis)

1500mm optional

Effective Cutting Length (Y axis)

3000mm optional

Feature

Dustproof design and heavy duty frame

Drive Mode

Leadshine

Rail

Taiwan inported Hiwin Square rail

Lifting body

1set

Plasma torch

1set

File transmission

USB transmission

Cutting shape

Able to program and cut the steel plate parts with any plane shapes formed by straight lines and arcs;

Software

Fastcam Software

Plasma power source

Huayuan 63A 100A 120A 160A 200A

Hypertherm 45A 65A 85A 105A 125A 200A

Cutting thickness

According to the plasma power source

Height regulating device

Arc voltage height

Cutting speed

0-10000mm/min

Cutting precision

±0.3mm

Control ccuracy

±0.01mm

Support software

Fastcam /Type3/autocad/pro/CAXA etc.

Working Temperature

-5~60°CRelative Humidity, 0-95%.

Power Supply Voltage

380V±20%(220V optional,but we need custom for you)

Packing Weight

3900x2300x1750mm

Packing Size

1500kg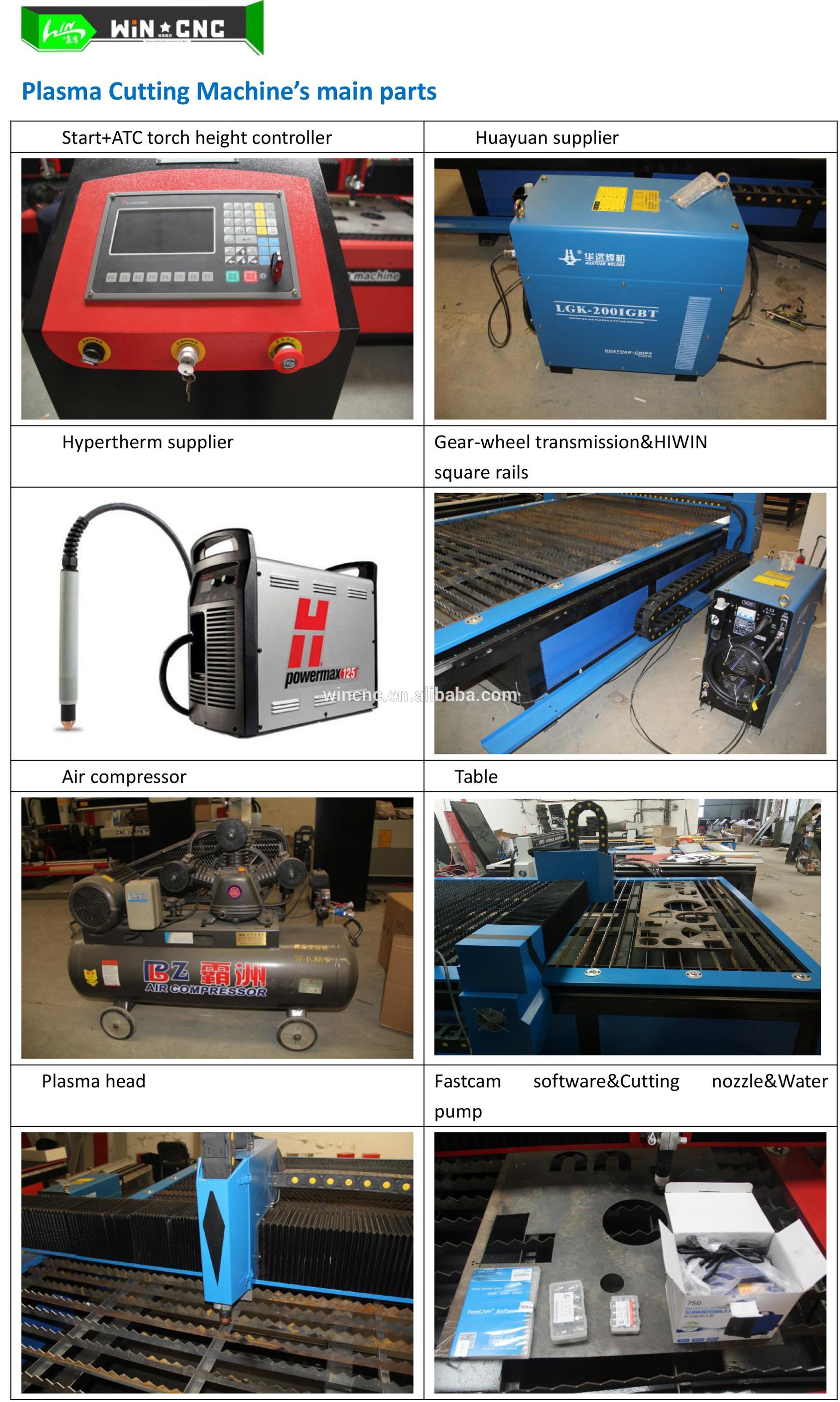 Plasma Cutting Machine,Cnc Plasma Cutting Machine,Plasma Flame Cutting Machine,Plasma Cutter
Shandong U-May CNC Technology Co., Ltd. , https://www.sesamecnc.com