What does a mobile vending truck literally mean about its benefits? Of course it is easy to move! It is mainly used for corporate and individual mobile advertising and on-site sales. It can also pick up goods at the time of sale. It is more suitable for promotional campaigns on holiday and crowded roads and square communities. Mobile industry is suitable for diversified use. Sales vehicles are also called mobile sales vehicles and mobile sales vehicles. It embodies the value of publicity and distribution on-site sales promotion activities, and is applicable to the image promotion of large and small retail enterprises.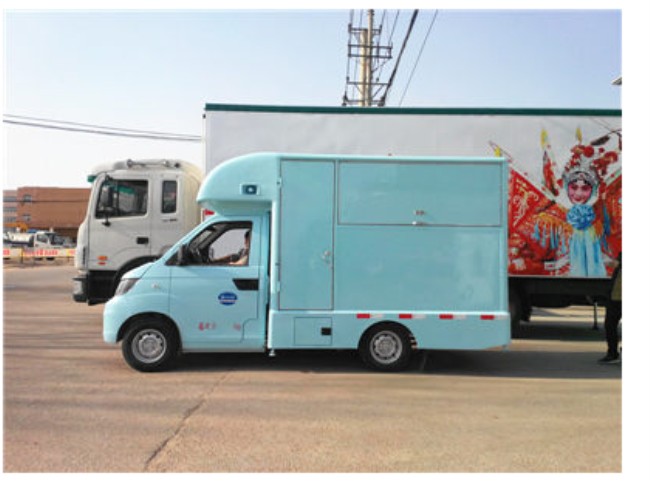 And now more and more manufacturers can create their own high-quality and personalized sales trucks according to the user's requirements. And the purchase of mobile sales vehicles is also more convenient, first find the manufacturers, through telephone contact or field visits to negotiate the type of vehicle you want to buy the price and related requirements. The second step is the signing of the purchase and sale contract of the vehicle and prepayment of the contract deposit. With the signing of the contract, you can sign the contract by fax and sign the contract on the ground. The next step is for the company to arrange production workshops for your own mobile truck production according to your requirements. Finally, the vehicle is delivered for acceptance, the remaining amount of the vehicle is paid, and the related procedures are completed. Therefore, the purchase procedure for mobile sales vehicles is also relatively simple. There is also a good after-sales service for mobile vending trucks. After you buy a car, it will generally be within the warranty period. The product quality will be based on repairs, and the repair fee will be free, but it will not include the vulnerable and electrical parts. There is a lifetime warranty, and parts that need to be replaced beyond the warranty period are charged only for the relevant cost.
Maybe some people have ideas on mobile sales vehicles, but it doesn't matter. Generally speaking, companies that move supply trucks will train operators for free. The manufacturer arranges senior engineers to give on-site guidance, learn theoretical and practical operations, and guide operators. Master the basic theoretical performance and functions of a special vehicle, and perform routine maintenance routinely and eliminate general technical problems. And the biggest advantage of mobile vending trucks is that they can be parked in various areas for sale, and they can also go to off-campus townships to collect. So the biggest benefit of a mobile sales wagon is that it can be moved. If you think about it, you can go and learn about it.

The internal use of PP melt-blown, wire burning, folding, titanium filter, activated carbon filter and other tubular filter elements as filter elements, according to different filter media and design process to select different filter elements to achieve the effluent quality requirements. The body can also be equipped with a quick-loading type for quick and easy replacement of the filter element and cleaning. The equipment is widely used in pharmaceutical, chemical, food, beverage, Water Treatment, brewing, petroleum, printing and dyeing, environmental protection and other industries. It is an ideal equipment for various types of Liquid Filtration, clarification and purification.
Titanium Stainless Steel Filer Housing
Titanium Filter Housing,Titanium Stainless Steel Filer Housing,Titanium Rod Filter,304 Filter Housing
Ji'an city Qing Feng Filter Equipment Material CO.,Ltd , https://www.qingfengfilter2.com