Do not think that only three wheels should be taken lightly when driving a three-wheel suction vehicle. Although the volume of a three-wheel suction vehicle is relatively small compared to other models, it is relatively small and simple. However, there will be some areas of sight within the line of sight. Do not use three-wheel suction trucks because the tonnage and size of the vehicles will be relatively small. In fact, it is small but temperamental. Then I will briefly explain some of the longest misunderstandings of driving this type of suction truck.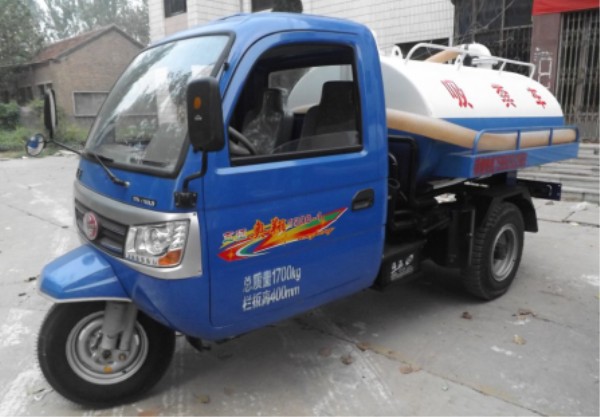 Frequent extinguishing is one of the most common misunderstandings among drivers who drive three-wheel suction trucks. Because the three-wheel suction trucks are operated by manual transmission, it is not difficult to avoid thinking that when a newbie is driving a vehicle, panic will be caused. Frustrating situation. Then the cooperation between the oils is obviously unfamiliar, causing the three-wheel suction truck to frequently turn off. Especially when the vehicle is at the start, there is a vehicle behind the street that sways on the street. The urging will be even worse.
In order to be able to improve this situation, the only thing the driver of a three-wheel suction truck needs to do now is, hurry! tight! Training! practice! Oil clutching is a basic operation that the driver should learn the most. It is also the most important thing to be able to master and coordinate well. In practicing the position of the three-wheel suction truck clutch engagement point, it should be noted that after you feel that the clutch plate of the vehicle is already being engaged, you need to slowly raise the clutch pedal. Give oil slowly. In this way, the practice of hard work has repeatedly been repeated, I believe we will be able to fully grasp the cooperation between the oil.
Throttle When the brake pedal is a mistake that many female drivers often appear, but there are also some novice male drivers who will also make the same mistakes in a stressful situation. When driving a three-wheel suction truck, be sure to concentrate on driving. You need to be able to grasp the conditions on the road ahead. If you are in an emergency, you need to do the right thing. You can raise the accelerator pedal in advance, and then put your foot on the brake plate, ready to prepare for the brake at any time, we must avoid the wrong way of operation.

Description:
AWS E7016 Welding Electrodes is a potassium low hydrogen type Carbon Steel Welding Electrodes.It can be used for all postion welding with excellent performances:,small spatters, easy restrike arc, high welding efficiency, fine appearance and slag easy to remove. The weld seam shows a satisfactory plasticity, excellent low temperature toughness and high crack resistance.
Aws E7016 Welding Electrodes Product details:
Diameter: 2.0mm, 2.5mm, 3.2mm, 4.0mm, 5.0mm
Length: 300mm, 350mm, 400mm, 450mm
Operating Current: AC and DC
Welding Current Range: 70-180A
Application:
AWS E7016 Welding Electrodes is Suitable for welding important carbon steel and low alloy steel, such as 16Mn steel and ships fabricated by A,B,D,E grade steel.
Attention:
a. Welding electrodes should be backed at the temperature of 350℃ for one hour before welding.
b. Before welding, the weld metal must be cleared away impurities, such as rust oil, moisture, etc.
c. Short arc and narrow weld bead are recommended in welding.
Packing:
2.5mm*300mm 2.5kgs/inner box, 8inner boxes/carton=20kgs
3.2mm*350mm 5.0kgs/inner box, 4inner boxes/carton=20kgs
4.0mm*400mm 5.0kgs/inner box, 4inner boxes/carton=20kgs
5.0mm*400mm 5.0kgs/inner box, 4inner boxes/carton=20kgs
AWS E7016 Welding Electrodes
Aws E7016 Welding Electrodes,E7016 Welding Electrode,7016 Welding Rod,E7016 Welding Rod
Dingzhou Jinlong Metal Production Co., Ltd. , https://www.weldingelectrodefactory.com