Model NO.:

Customized

Nitrided Hardness:

900-1000hv

Surface Roughness:

Ra0.4

Application:

Extruder Machine

Specification:

ISO9001: 2008

HS Code:

84779000
Nitrided Layer Depth:

0.5-0.8mm

Nitrided Brittleness:

Less Than Grade 1

Linearity of Screw:

0.015mm

Trademark:

Zhongyang

Origin:

China(Mainland)
PVC Pipe 45mm Conical Twin Screw and Barrel
Specification:
24/52/, 35/76, 45/90, 45/100, 50/105, 51/105, 55/110, 55/120, 58/124, 60/125, 65/120, 65/132, 68/143, 70/135, 70/140, 75/150, 80/143, 80/156, 92/188, 95/191, 105/191, 105/213
The above are standard specifications, we can customize according to customers' requirements.
The compression ratio of screws can be designed according to different products and ingredients.
Base Materials:
(1)38CrMoAlA(JIS SACM645)
(2)42CrMo(AISI 4140)
(3)4Cr5MoSi V1 (JIS SKD-61)
(4)9Cr18MOV
(5)HPT
Bimetalic alloy materials:
1)Fe-based alloy
2)Ni-based alloy/Deloro alloy
3)Co-based alloy
4)NiCo-based alloy
5)Tungsten carbide/Wolfram carbide
Technics:
Heat treatment
High-frequency quenching
Nitriding treatment
Hard-chrome electroplating
Bimetallic alloy welding
Bimetallic alloy centrifugal casting
Technical parameter:
Nitrided layer depth: 0.5-0.8mm
Nitrided hardness: 900-1000HV
Nitrided brittleness: Less than grade 1
Surface roughness: Ra0.4
Linearity of screw: 0.015mm
Hard-chrome plating hardness after nitriding: ≥ 950HV
Chrome-plating layer depth: 0.025-0.085mm
Bimetallic layer depth: 3mm
Warranty and service: 1 year
We could manufacture various kinds of screws and barrels according to the customer's requirement.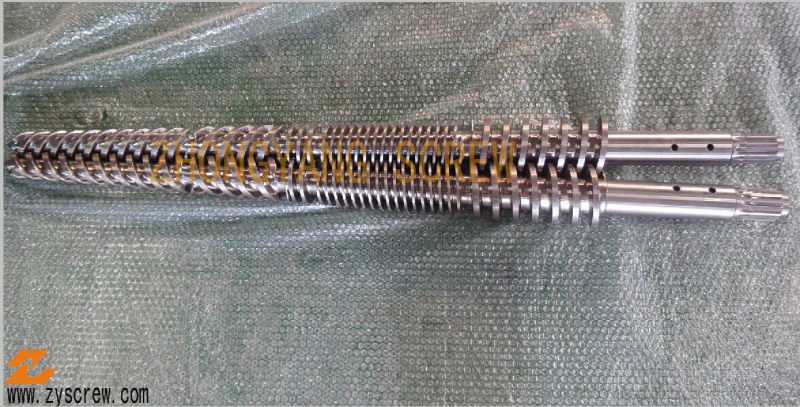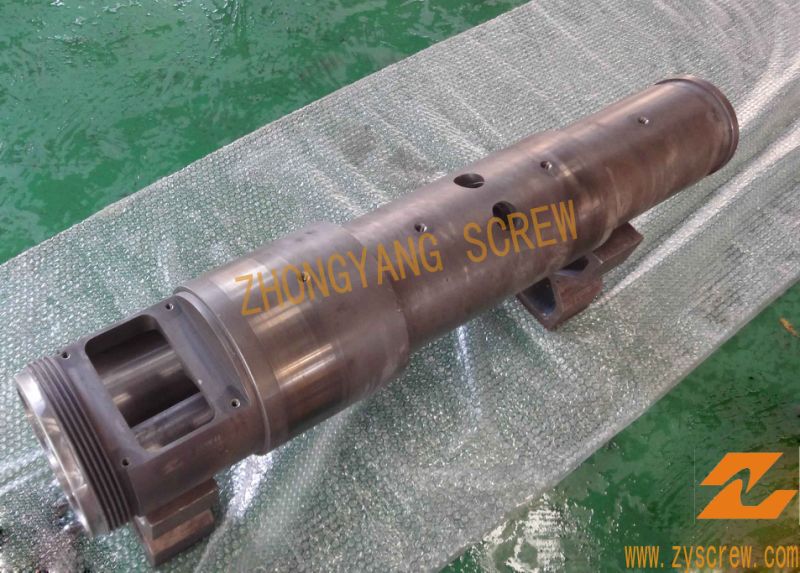 Welcome to contact us~!
Threaded Flange is a kind of flange which uses thread to connect with pipeline. In design, it can be treated as loose flange. The advantage is that there is no need for welding, and the additional torque to the cylinder or pipe is very small when the flange is deformed. The disadvantage is that the flange thickness is large and the cost is high. Suitable for connection of high pressure pipeline. [1]
The threaded flange is a kind of non welding flange, which processes the inner hole of flange into pipe thread and realizes the connection with the pipe with thread. Compared with the flat welding flange or butt welding flange, the threaded flange has the characteristics of convenient installation and maintenance, and can be used on some pipelines that are not allowed to be welded on site. The Alloy Steel Flange has enough strength, but it is not easy to weld, or the welding performance is not good, the threaded flange can also be selected. However, when the pipeline temperature changes rapidly or the temperature is higher than 260 ℃ and lower than - 45 ℃, it is recommended not to use threaded flange to avoid leakage.

Threaded Alloy Flange,Threaded Steel Flange,Threaded Alloy Steel Flange,Threaded Alloy Reducing Flange
ShanXi GuanLi Flange Co.Ltd , https://www.sxglflange.com